This Just In: Crowded House Join The Star-Studded Lineup For Bluesfest 2022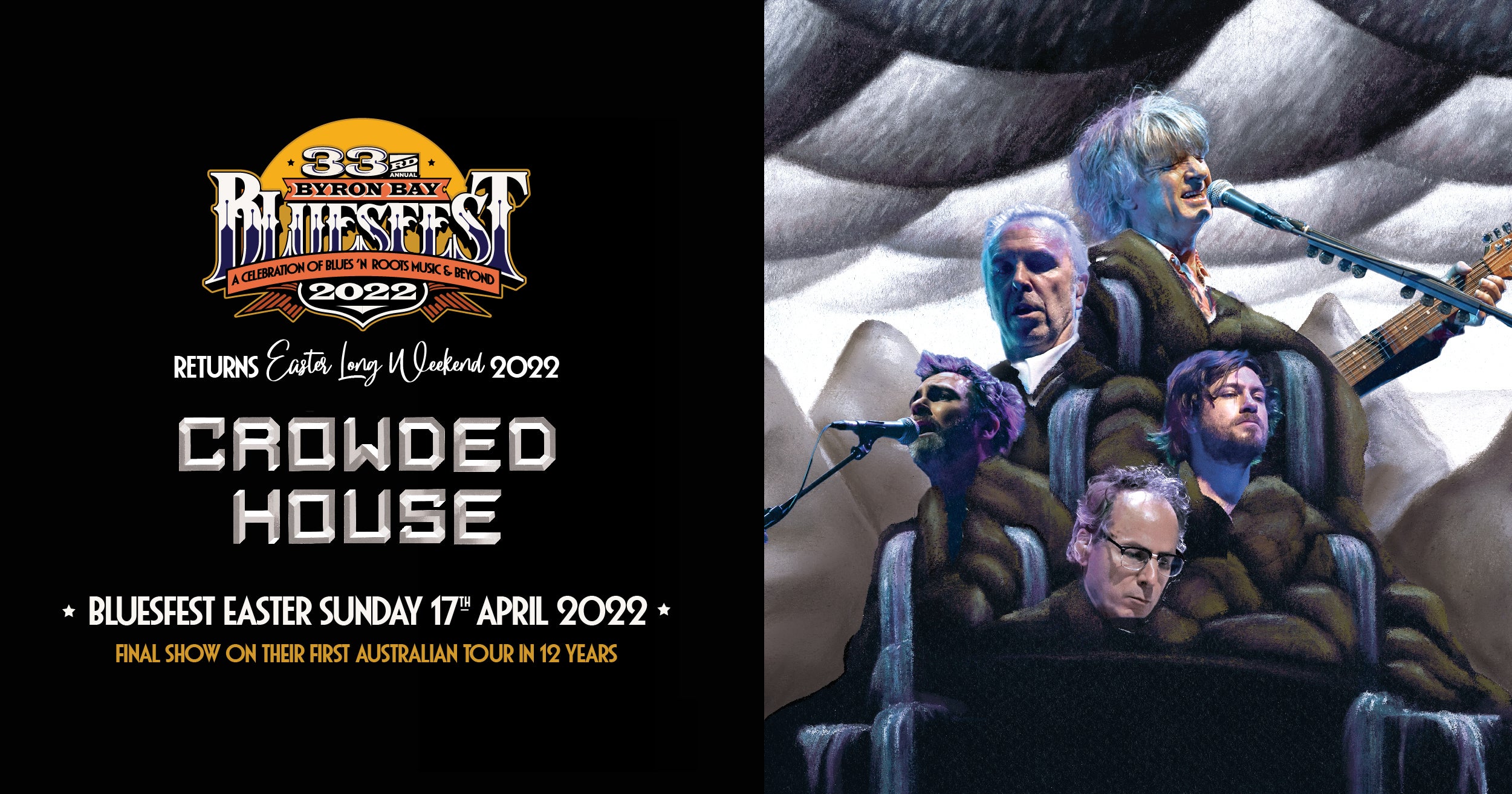 Yep, you heard right! Iconic Aussie outfit Crowded House are performing at the 2022 edition of Bluesfest Byron Bay Easter Sunday next year.
Bluesfest will be the last stop on the outfit's first Australian tour in 12 years, with the tour also visiting fans in Sydney, Melbourne, Adelaide, Perth and Bowral.
"CROWDED HOUSE - CROWDED HOUSE - CROWDED HOUSE!!!
This is such a great announcement I have to just keep saying it - and pinching myself! I am beyond thrilled and excited to welcome Crowded House back to Bluesfest. I have great memories of them, and the sensational live performance they gave, headlining the very first Bluesfest at our Tyagarah home back in 2010. Crowded House have a trophy cabinet stacked with awards and no wonder, because not only is the Crowded House songbook jam-packed with instantly recognisable songs, but their live performances are an exercise in memorable, anthemic perfection. It's an honour to have them return and allow us to host THE CLOSING DATE ON THEIR LONG-AWAITED AUSTRALIAN TOUR" - said Bluesfest director Peter Noble OAM of the announcement.
Joining Crowded House at Bluesfest includes the likes of The Cat Empire, Midnight Oil, Paul Kelly, Jimmy Barnes, Amy Shark, The Teskey Brothers, SIX60, Fat Freddy's Drop, L.A.B, John Butler, Xavier Rudd and heaps more.
Bluesfest 2022 kicks off on Thursday 14 April, running until Monday 18 April at the Byron Events Farm, Tyagarah. All ticket options, plus camping, parking, and VIP for the festival are on sale now, so round up your crew and score tickets ASAP.
Bluesfest 2022
Thursday 14 - Monday 18 April 2022 | Byron Events Farm, NSW

CROWDED HOUSE join the already massive ALL-AUSSIE (with special guests from NZ)
Bluesfest 2022 lineup:
MIDNIGHT OIL | PAUL KELLY | JIMMY BARNES
AMY SHARK | THE TESKEY BROTHERS | SIX60 | FAT FREDDY'S DROP | L.A.B
JOHN BUTLER | XAVIER RUDD | MISSY HIGGINS | KASEY CHAMBERS
HOODOO GURUS | IAN MOSS | THE LIVING END | PETE MURRAY
THE WAIFS | JON STEVENS | KATE CEBERANO | JOHN WILLIAMSON
THE CHURCH | RENEE GEYER | TEX PERKINS THE MAN IN BLACK | VIKA & LINDA
HIATUS KAIYOTE | THE BLACK SORROWS | THE ANGELS | RUSSELL MORRIS | CASEY BARNES
DIESEL | KATE MILLER-HEIDKE | BAKER BOY | MARK SEYMOUR & THE UNDERTOW
STAN WALKER | JOSH TESKEY & ASH GRUNWALD | ALL OUR EXES LIVE IN TEXAS
ROSS WILSON and THE PEACENIKS | JEFF MARTIN PLAYS THE SONGS OF LED ZEPPELIN
TROY CASSAR-DALEY | BRIGGS | KARA GRAINGER | WEDDINGS PARTIES ANYTHING
CW STONEKING | THE BAMBOOS | CHAIN | BACKSLIDERS | 19-TWENTY
ASH GRUNWALD | MELBOURNE SKA ORCHESTRA | JEFF LANG | SAM TESKEY
NATHAN CAVALERI | KIM CHURCHILL | HENRY WAGONS | JK-47 | GARRETT KATO | FOOLS
MAMA KIN SPENDER | DAMI IM | PIERCE BROTHERS | EMILY WURRAMARA | THE BUCKLEYS
FIONA BOYES & THE FORTUNE TELLERS RAY BEADLE PACEY, KING & DOLEY
MICK THOMAS' ROVING COMMISSION | HUSSY HICKS | ROSHANI | DANIEL CHAMPAGNE
LITTLE GEORGIA LAMBROS. | ROUND MOUNTAIN GIRLS | THE REGIME
ELECTRIK LEMONADE | PALM VALLEY | KEVIN BORICH
EXPRESS LACHY DOLEY & THE HORNS OF CONVICTION | LISA HUNT'S FOREVER SOUL
GEOFF ACHISON & THE SOULDIGGERS | HAT FITZ & CARA
BYRON BUSKING COMPETITION
ROCKWIZ LIVE
FOR MORE BREAKING NEWS CLICK HERE