SELLING TIX
Using moshtix does not cost a cent to the promoter. All moshtix services are covered by the booking fee added to the ticket price. The promoter retains the full value of the ticket. Whether you are running a venue, staging a festival, or putting on a one-off event, moshtix has a ticketing solution to suit. The moshtix servers can handle very large onsale loads, making the biggest on-sale day worry free
You can download a general moshtix information pack here.
Why Should I Use Moshtix?
The major benefits of using moshtix are:
Low booking fees mean better value for your customers.
Full retention of the full ticket value.
Rapid listing of events.
Rapid payment following the event, usually within 5 working days directly to your nominated bank account.
Instant access to sales figures.
Rapid entry of your customers to your event.
Access to a range of marketing tools including your customer database, plus Facebook to sell tickets directly from your social networking pages.
Access to marketing services.
Friendly experienced staff on call
How Do I Get Started?
To list an event with moshtix, please fill in the form below. Once we receive your details, you'll be sent a Selltix form to complete. This form gives us all the information we need to set up your event. On receipt of your completed selltix form, we will be contacting you with a link to your event to put on your website to direct customers to buy tickets
Key Questions : Questions :
When will my event be set up?
Once we have the completed Selltix form and an image to include on your booking page, your event will be set up on the moshtix system and on sale within 2-3 working days
What will my tickets look like?
Your event will be set up with a barcode PDF style ticket. This ticket contains a unique barcode and is delivered by email for on-line and phone purchases, or in one of our retail outlets if bought over the country.
If customers have an iPhone, they are able to import tickets into their Apple Passbook application.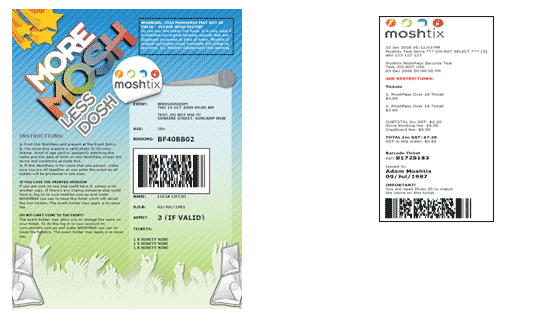 If you wish to use your own branded ticket, please speak to our sales staff.
Based on ticket sales customers are either marked off with a door list (for smaller numbered shows), or for larger events moshtix can provide staffing and/or equipment to scan tickets. An additional cost may apply for supplying staff and/or equipment
How does moshtix promote my event ?
For every event, moshtix works hard to help you promote your event. From your on sale date it will be available through our website and our various marketing channels right around the country!
Some of our marketing channels include :
- moshtix Website
- Moshguide email that goes out to over 400,000 people each week
- Mx in Melbourne, Sydney and Brisbane
- Promotional modules on news.com.au, dailytelegraph.com.au, heraldsun.com.au, couriermail.com.au, adelaidenow.com.au, perthnow.com.au and more
Ask your account manager about other marketing we can do for your events
Can I sell from my Facebook pages directly?
moshtix has created automated a Facebook listing application so you can sell and promote tickets to your events from your social networking pages. This application pulls information directly from the moshtix website. As soon as you list the event with moshtix, it automatically updates on Facebook. Moshtix is the first ticketing company in Australia to provide this great tool.
By listing events with moshtix, you are eligible to have access to our special Facebook application.
This amazing feature is provided at no cost, to moshtix customers who have an agreement with moshtix.
If you are interested in using this Facebook application, please contact your account manager at moshtix.
See examples below:
Facebook Application: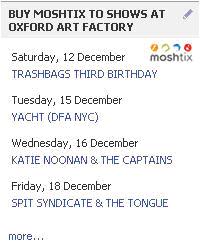 Eg. Facebook application for Oxford Art Factory, http://www.facebook.com/#/oxfordartfactory
How will I verify attendees at my event?
If using a moshtix doorlist, as mentioned above, you simply ask your attendees to initial that they have arrived and collected their tickets. Then you simply fax this back to us and you will be paid within 5 working days.
If moshtix equipment and/or staffing is provided, then you do not need to have your attendees sign.
Please note that if an attendee does not turn up to the event, you still receive their payment. The signature is a bank requirement to prevent fraudulent transactions.
What do I put on my promotional material?
For all promotional material, please list the following info.
Tickets available at www.moshtix.com.au, 1300 GET TIX (438 849), on your mobile moshtix.mobi and all moshtix outlets.
Depending on where you are located, you can mention your local outlets. A full list is located here http://www.moshtix.com.au/v2/outlets
For example in Melbourne :
Tickets available at www.moshtix.com.au, 1300 GET TIX (438 849), on your mobile moshtix.mobi and all moshtix outlets including Polyester Records (City & Fitzroy) and Greville Records.
Some key outlets around the country are :
Sydney - Red Eye Records, Fish Records, Resist Records and more
Adelaide - Leading Edge Adelaide, We Are Godzilla and more
Perth - Planet, Dirt Cheap CDs, Mills, Rockeby Records and more
Brisbane - Rocking Horse Records, Butterbeats, Kill The Music and more
Hobart - Ruffcut Records and more
Please download our logos from: Moshitx_Logos.zip
(All over Australia people automatically recognise our logo, so we suggest you include it where possible)
When will I be paid?
moshtix will make a direct deposit to your nominated bank account within 5 working days after the event
Subscribe to the weekly moshguide!